Niagara Laptop Repair | Computer Repair
We are the ONLY ones in the Niagara region with a clean POLICE CLEARANCE Certificate!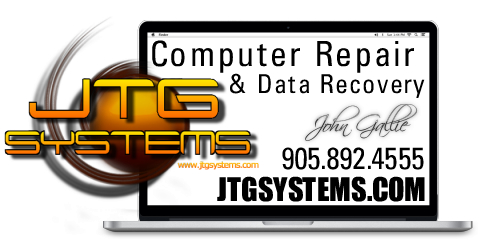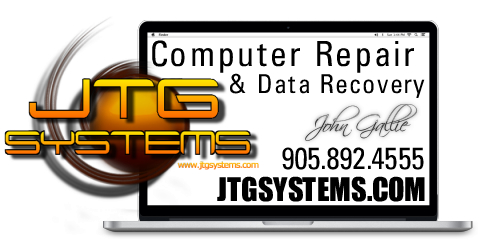 Niagara Laptop Repair ☎ (905) 892-4555 ☎
Welcome to the Laptop Repair site for the Niagara Region. JTG Systems is the owner and service provider for the computer repair services on this site. We offer Laptop Repair in the Niagara region for excellent prices, fast service, and a guarantee on all repairs. You don't have to pay for an estimate; It's free! Niagara Laptop Repair in Welland, St.Catharines, Niagara Falls.
Quickest Response time possible; Quickest repair possible with ensuring a Warranty on workmanship and YOUR list of issues are FINALLY solved.. with Confidence knowing you were serviced by an expert, not just by some random guy on Kijiji.
With today's computer technology set up properly, you can be fully functional in your home office to look for jobs online, print out resumes, and get the career you want. You can even work online.   We take great pride in our ability to repair your computer properly the 1st time and the only time.  
We make sure everything is up to date on your computer Including the most common software such as Skype, Google Drive, Java, Shockwave player; and other common software titles that are sometimes vital to the computer's security and functionality.
We repair the most common issues such as screens, keyboards,  laptop Jack, Hinges, and other various parts of the computer like motherboard repair.
Onsite Computer repair is also a service we offer with Great Success. We ensure you're up and running ASAP, and set the bar for excellence in the industry of onsite computer repair in the Niagara region. We do not charge an hourly fee, only a Flat Rate per computer. To ensure the job is not rushed and to ensure that the repair is done properly and to provide excellent quality repairs and customer service and to uphold a proper reputation as being the very best in Niagara Region.
MAC and PC Computer repair services offered here at JTGSystems – Niagara's #1 Choice for computer repair… Just ask our customers. They will never go anywhere else!
Contact us online or call (905) 892-4555 today and let us take care of all of your laptop needs!


all areas of your city. laptop repair for Welland, st.catharines, and Fonthill.
We fix issues such as:
Power connector lose or broken
Dead Motherboard (No power)
Bad Motherboard or Video Card
Overheating and Shutting Down
Dim LCD Screen – screen not bright
Broken LCD Panel (Dropped or stepped on)
Keyboard not working (Spilled coffee/wine or juice)
Keys Missing on Keyboard need replacing
Computer speed or performance has slowed
Computer system freezes and blue screens of death
The computer keeps on rebooting again and again
Noises and vibrations, Noisy Computer problems
Spyware and Virus removal
Your browser home page changed itself
Data loss and Backup
Data Recovery for laptop
Motherboard Repair laptop repair
LCD Replacement/Back-light
Inverter replacement
Touchpad Replacement
DC Jack Repair
Keyboard Replacement
We repair all Major brands and non-major brands.
 Acer – TravelMate, Extensa, Aspire laptop repair
 Gateway laptop repair
 Asus – Asus Eee, Zenbook laptop repair
 Dell – Inspiron, Latitude, Precision, Studio, Vostro, XPS, Studio XPS, Alienware
 Hewlett-Packard – HP Pavilion, HP Omnibook, HP Elitebook
 Lenovo laptop repair – ThinkPad, IdeaPad, All series
 Apple laptop repair – MacBook, MacBook Air, MacBook Pro
 Fujitsu laptop repair – LifeBook, Stylistic
 LG laptop repair – Xnote
 MDG Computers
 Panasonic – Toughbook, Satellite
 Samsung laptop repair
 Sony – VAIO
 Toshiba – Dynabook, Portege, Tecra, Satellite, Qosmio, Libretto
 Vizio
Apple – iMac repair for NiagaraSome common terms people use to search and find us are:
laptop repair near me, Computer repair near me, Laptop Repair shops in Niagara.  and Virus removal in Niagara.  St.catharines laptop repair and st.catharines computer repair.
Cities We Service are, but not limited to:
Dunnville | Fonthill | Fort Erie | Grimsby | Lincoln | Niagara | Niagara Falls | Niagara on the lake  | Pelham | Port Colborne | St.Catharines | Stoney Creek | Thorold | Welland | West Lincoln