Niagara Laptop Repair | Computer Repair
We are the ONLY ones in the Niagara region with a clean POLICE CLEARANCE Certificate!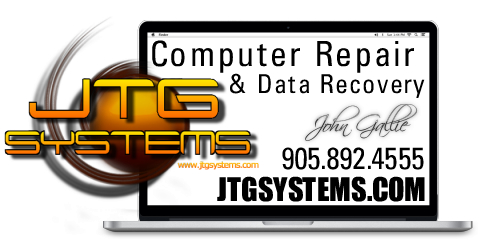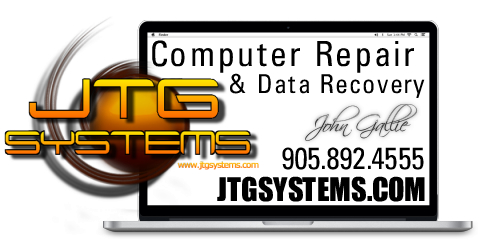 Niagara Laptop Repair ☎ (905) 892-4555 ☎
Welcome to the Laptop Repair site for the Niagara Region. JTG Systems is the owner and service provider for the computer repair services on this site. We offer Laptop Repair in the Niagara region for excellent prices, fast service, and a guarantee on all repairs. You don't have to pay for an estimate; It's free! Niagara Laptop Repair in Welland, St.Catharines, Niagara Falls.
Quickest Response time possible; Quickest repair possible with ensuring a Warranty on workmanship and YOUR list of issues are FINALLY solved.. with Confidence knowing you were serviced by an expert, not just by some random guy on Kijiji.
With today's computer technology set up properly, you can be fully functional in your home office to look for jobs online, print out resumes, and get the career you want. You can even work online.   We take great pride in our ability to repair your computer properly the 1st time and the only time.  
We make sure everything is up to date on your computer Including the most common software such as Skype, Google Drive, Java, Shockwave player; and other common software titles that are sometimes vital to the computer's security and functionality.
We repair the most common issues such as screens, keyboards,  laptop Jack, Hinges, and other various parts of the computer like motherboard repair.
Onsite Computer repair is also a service we offer with Great Success. We ensure you're up and running ASAP, and set the bar for excellence in the industry of onsite computer repair in the Niagara region. We do not charge an hourly fee, only a Flat Rate per computer. To ensure the job is not rushed to ensure that the repair is done properly and provide excellent quality repairs and customer service and uphold a proper reputation as being the very best in Niagara Region.
MAC and PC Computer repair services are offered here at JTGSystems – Niagara's #1 Choice for computer repair… Just ask our customers. They will never go anywhere else!
Contact us online or call (905) 892-4555 today and let us take care of all of your laptop needs!


all areas of your city. laptop repair for Welland, st.catharines, and Fonthill.
We fix issues such as:
Power connector loose or broken
Dead Motherboard (No power)
Bad Motherboard or Video Card
Overheating and Shutting Down
Dim LCD Screen – screen not bright
Broken LCD Panel (Dropped or stepped on)
The keyboard not working (Spilled coffee/wine or juice)
Keys Missing on Keyboard need replacing
Computer speed or performance has slowed
Computer system freezes and blue screens of death
The computer keeps on rebooting again and again
Noises and vibrations, Noisy Computer problems
Spyware and Virus removal
Your browser home page changed itself
Data loss and Backup
Data Recovery for laptop
Motherboard Repair laptop repair
LCD Replacement/Back-light
Inverter replacement
Touchpad Replacement
DC Jack Repair
Keyboard Replacement
We repair all Major brands and non-major brands.
 Acer – TravelMate, Extensa, Aspire laptop repair
 Gateway laptop repair
 Asus – Asus Eee, Zenbook laptop repair
 Dell – Inspiron, Latitude, Precision, Studio, Vostro, XPS, Studio XPS, Alienware
 Hewlett-Packard – HP Pavilion, HP Omnibook, HP Elitebook
 Lenovo laptop repair – ThinkPad, IdeaPad, All series
 Apple laptop repair – MacBook, MacBook Air, MacBook Pro
 Fujitsu laptop repair – LifeBook, Stylistic
 LG laptop repair – Xnote
 MDG Computers
 Panasonic – Toughbook, Satellite
 Samsung laptop repair
 Sony – VAIO
 Toshiba – Dynabook, Portege, Tecra, Satellite, Qosmio, Libretto
 Vizio
Apple – iMac repair for Niagara

Some common terms people use to search and find us are:
laptop repair near me, Computer repair near me, Laptop Repair shops in Niagara.  Virus removal Niagara.  St.catharines laptop repair and st.catharines computer repair. MacBook pro repair Niagara
Cities We Service are, but are not limited to:
Dunnville | Fonthill | Fort Erie | Grimsby | Lincoln | Niagara | Niagara Falls | Niagara on the lake  | Pelham | Port Colborne | St.Catharines | Stoney Creek | Thorold | Welland | West Lincoln
"My laptop was slow, i was considering getting another one cause of how slow it was, JTG Systems fixed it up so now i dont need another one, saved me a bunch of money. Thanks again, highly recommended."
Karen Kemp
"speed up my laptop that day, thank you. good work."
Class Eh
"Quick friendly service. Definitely will recommend to family and friends. Thanks for helping with my MacBook Pro."
Pat L
"Took 2 laptops in. One dead and they switched out the hardrive for us. Great friendly and profeszional service. Had another issue with it….took it in again and they fixed with no charge. Would highly recommend them to anyone."
Grace Cercone
"Good and friendly people ! They were able to fix my laptop in an hour and were very understanding over the phone. They explained what was wrong and how they fixed it. I would highly recommend!"
Jessica H
"I had recently lost ALL of the documents and pictures on my laptop (years worth of important stuff!). I had called around to a lot of different places where I was told to bring in my computer for a high price to see if they "could" recover it. When I called JTG Systems I was overwhelmed by the friendly and helpful voice on the other end of the phone. He took the time to talk & listened to my issues with the computer and gave me an excellent price. I brought in my laptop plus another one to get cleaned up and was SO HAPPY with the service and time this was done in! All of my pictures and documents were restored & transfered to a safer place PLUS both computers were cleaned up …. all in two days!!! FASTEST and BEST service I have yet to experience … & I will FOR SURE bring my computers here from now on and recommend them to anyone I talk too! So awesome!!!"
Shannon Smith
"I recently got my laptop screen replaced and the service was professional, quick (two day turnaround) and most importantly it was inexpensive. The service was highly recommended and my experience was great."
kennisha cornish
"Great experience took macbook for battery and was looked after right awaywas very impressed. So much it has been put into our comunity news letter.Ray"
Ray Pountney
"I had a virus and I needed my laptop to study for my midterm the next day, I was really upset because the malware wouldn't let me open anything, When I called John he told me I could go see him right away. John fixed my computer within an hour, he was pleasant and professional, I would definitely recommend him."
Nessa D
"John is incredible. Helped me figure out what had gone wrong with my MacBook without charging for Diagnostics like they do at Jumpstart. If you are a student in Niagara with computer issues it is 100% worth it to take it to John. Fast, reliable and most importantly helpful and cost effective! Thanks again John"
Noah Beggs
"I was visiting my family for a few days but was flying out to Edmonton right after and needed 2 laptops and 1 portable harddrive to be faster and cleaned up JTG called me which the issues and told me the fix which was beyond reasonable and the price was unbeatable! Everything was ready to be picked up that same day! Amazing! Going to be using them again for sure! Thank you!"
Erin De Forest
"I have been dealing with John for Years, he keeps my website updated and handles all of my computers and laptops. When I have a problem I call him. Always A+ Service with attention to making my website top ranked in google over the last few years."
wardpressure washing
"Reliable, prompt and reasonably priced service. Would definitely refer to others. My MacBook Pro is running better than new now. Thanks."
Andy Fish
"Had my laptop repaired by JTG systems and the service, quality of work and price was amazing! Would highly recommend this business! So happy!!"
Kerri Tonnies
"if i could give more than 5 stars i would!!John was a pleasure to work with in fixing my computer, negotiated a good price for the fix with the proper components i needed and all of it was done in less than an hour in the shop.honestly cant say enough about how convenient and easy it was as well as was just nice to have some good conversation in regards to information i needed to do with building a computer.would recommend to anyone needing to get their computers or laptops fixed or anyone looking to get a refurbished piece of equipment!!"
Spencer Fraser
"Prior to JTG Systems,my laptop was running slowly and had issues with Malware, Spyware and viruses. John fixed these problems, upgraded my drivers and also installed de-fragmenting software. My laptop is now running smoothly and efficiently."
Sean Maiden
"Extremely satisfied with the service at JTG systems! My Macbook Air would not turn on. I called and John was able to look at it that day. He fixed the problem quite quickly and now it works as good as new. Great service at an affordable price. I will definitely be back for any future computer issues!"
Claire Matthews
"I reached out to John after he was recommended to me from someone on a Niagara Advice Page. From the initial contact I felt I was in the best of hands. John was able to assist with a recovery of lost files & pictures after my Macbook decided to do a software update. Throughout the whole process, John was available through text message to alleviate all my stresses with the thoughts of losing years of memories. Would not go anywhere else from here on out and will always be referring him to friends and colleagues. KUDOS TO YOU & YOUR TEAM JOHN!!!"
Alok Malhotra
"JTG Systems is the best place to bring your computer or electronic device for repair in the Niagara Region. The staff is extremely knowledgeable, the work is efficient, and the pricing has me returning. I've had them retrieve lost data off my cell phone, give my old laptop a tune up (saving me from having to buy a new one), and even had them put together an entirely new gaming tower for me. Each visit has me coming back the next time!"
Robert S
"I used John for a laptop problem I was having He repaired it same day and has been working great ever since Thanks John Much appreciated ! I'll be back for sure"
Stu Boyd
"I have a MacBook Air that is only a year old and used for Word or regular websites. My charging port stopped working so I went to BestBuy, they quoted me $300-$900 to fix or backup my information for $100+tax. I walked out feeling stuck and hopeless. I decided to call someone who specializes in Mac and isn't "corporate".Called JTG systems. Came in the next day, charge port was slightly moved and he put it back in place. Was very understanding and informative! 10 seconds and my laptop was working again! He then added virus protection programs to remove a current virus causing popups and also showed me tricks I didn't know about my Mac. Ten out of ten would recommend. Forever customer now."
Cheryl Collins
"I just brought my laptop in for service, I needed the viruses removed and windows installed. John was extremely helpful and knowledgeable. The service I received was prompt and the cost was very reasonable. I would recommend JTG Systems to anyone looking for service!!!"
Who-is That-Girl
"John and Tony know their stuff quite well. They offered professional service for a really low price. They knew exactly what the problem was and fixed my laptop to make it brand new again. I'll be going back to them for future business."
Eowux Frier
"John helped me with my laptop, he installed an SSD and ensured that the warranty was upheld on after the fact service. I would recommend to friends and family."
Tim&April Stillson
"Completely fixed my MacBook Pro's booting issues that the Apple agent couldn't fix, and also fixed the insane overheating problems that I was facing, all under 2 hours while having great conversations with me! I can't explain how grateful I am to John. The amount of money and the time that I've saved is just unbelievable. Thank you so much for the fantastic service! HIGHLY recommend him to anyone!"
TheVeganSkeptic
"What a great repair shop, reliable, quick and cheap on pricing. Great customer service, 100% would recommend. Did a amazing job on my 2012 MacBook pro"
Eric Corlett
"called John at JTG Systems for an onsite he was at my place within 2 hours he fixed my internet within 30 minutes of his visit, he showed me how to use my new MacBook air and all its features. Very happy with his responsiveness and willingness to help. I would recommend him to friends and family."
Candace and Dennis Paris
"I was having issues with my laptop and called JTG Systems for some assistance. They were so quick with returning my call and offered to help right away. I was extremely impressed with their professionalism and willingness to assist! Please contact this business for all your computer repair needs. You won't be disappointed!!"
Elizabeth Sharma
"John was very helpful he repaired my lap top added a few extras and took the time to explain how to use certain programs. I took my laptop in at 12:30 it was ready to pick up in 3 hrs… he cleaned all the malware spyware updated drivers.I have been to computer repair shops before, and i know they rip you off. He gives you a quote and sticks to it. Very prompt, i would definately recomend his company anythime.. He also deals in other electronics repairs so give him a call…you won't regret it.."
dana slaunwhite
"Still great service!! If you don't know anything about what's going wrong with your computer/laptop – don't worry… JTG Systems will take the time to explain to you what needs to be done so your system is up and running at its best.Thanks JTG again for your great service!My PC crashed on Thanksgiving weekend – JTG Systems came to my rescue and i was up and running within an hour. Replaced my hard drive and not only is everything good my laptop performance is way faster than before!JTG will take the time to go over what you need and provide you with the best solutions and they stand behind their service!!"
Jean Noordhoff
"JTG Systems is a life saver. John is confident and a quick problem solver about what he needs to do in order to help me as a client. Oh, and did I say quick? Today, within minutes he fixed my laptop, which for everyone else was a mystery to solve. He's a great person to have on any small business team that's struggling with daily computer challenges."
Dianne Ellis
"Took my Macbook Pro to him with a keyboard issue without appointment, helped me right away. Very happy with the service, John knows his stuff and was very courteous and straight forward. Very fair price too. Will use his services in the future."
Cat .S.
"John was able to fix my liquid damaged laptop within an hour, and offered great service and affordable prices."
Nina McGregor
"Very helpful and prompt service. Got my laptop repaired within a few hours. Thanks!"
Ryan Jones
"Got a laptop fixed there.Hard drive was replaced and laptop was cleaned out. Quick and easy service. Very friendly in store and on the phone when I call and asked for a quote. Definitely will come back!"
Fiona K
"AMAZING! Saved all my data after a coffee accident ruined my MacBook ! I would recommend JTG to anyone with Mac problems, amazing to work with and doesn't try to rip you off!"
Stephanie Farr
"Very friendly and knowledgeable. Great service had 2 laptops serviced there. Great pricing. If your going anywhere else your wasting your time.Thanks John."
Glen Bylsma
"Got my water damaged macbook pro working again for under $350. I have been using it for 5 months now without any issues. Thanks you guys"
ATWCORP H4CK3R
"Absolutely fabulous service. Quick & attentive. Reacted to my problems and fixed accordingly. My laptop has never run better!"
Vince Morrison
"John has fixed more than one of my laptops and a cell phone I believe. A very true to his word person and great friend. Very good at his job and kind to everyone. Keep up the good work buddy. Good luck on new office in welland. Alexa"
Alexandria Szuch
"My entire family uses JTG Systems, John always has a solution from laptops to desktops even MAC! JTG Systems is your go to.. promise you will not be disappointed. Great work JTG!"
sally vachon
"Took my MacBook Pro to Jumpplus only to have them tell me my computer required a $900 repair. Would not pay that so I checked around until I found JTG systems. Very honest and helpful people. Had my laptop fixed and useable within an hour. It was amazing how a $900 repair turned into a $60 one. Thanks again to John and the guys. Definately would recommend and will be going back!"
ian Little
"These guys were great very professional and helped me out even after hours. My laptop runs super fast now. Awesome job and very reasonably priced I'd recommend these guys to everyone needing tech help."
Patrick Wright
"Took in an HP laptop with a cracked touch screen and they had it diagnosed and in working condition within an hour and a half! Way better price than any big tech company and honest advice! Going back here next time I need laptop help"
Carter Mudryk
"As a software developer I also do a lot of my own laptop repairs. However there are some repairs that are just too unnerving for me to do myself. When my Macbook Air became water damaged I had to draw the line.In all my years working with computers I can honestly say I have NEVER met anyone with knowledge and insight a great as John's. He just seems to know exactly what the problem is and he knows how to fix it faster and cheaper than anyone I've ever met.John is a computer Ninja within an elite network of computer ninjas. If he can't fix it someone within his network can. I will never take my computers anywhere else. This man is unreal."
Grant LAUZON
"I brought my Macbook in for repair, unsure if it could be fixed. JTG Systems worked hard to diagnose and solve the issues. Thank you!"
Amy M
"Although my laptop is now an expensive paperweight, I am super thankful for the great service I received from JTG. They were honest about the cost of fixing VS getting a new one and didn't even charge me. Highly recommend"
Sam Jones
"This Google Review is made possible with my new fancy Dell Tough book. The refurbish laptops being sold by JTG are fully functional, B grade units with years and years of potential. Thanks to JTG for dealing with me i can be a difficult a customer but they made the transaction and dealings very pleasant."
n t
"Excellent, efficient, professional service. I walked in, the problem with my laptop was determined within seconds, repaired while I waited. I would not go anywhere else. Such a pleasant surprise."
Clara Tofano-Numsen
"Very fast, trustworthy, helpful and reliable. Very appropriate pricing would recommend to all my friends. Only company around that I could find that wouldn't charge me for walking in the door. "No fix no fee" is what he said to me. Also willing to answer all my questions even after he fixed my laptop which is hard to find. Very pleased !"
Bryar Homorodean
"This location provided me with excellent customer service! I was having troubles with my macbook, it wasn't turning on or charging. After bringing it by, John was able to get it fixed, running 100% and back to me within the same day. I needed a new battery and they did the replacement at a great price. I would recommend this service to anyone with any electronics troubles.Fast, great service, and affordable!"
Brian Nuccitelli
"John has been looking after my MacBook Pro computers for many years.His commitment to customer service is exceptional! He is always thinking about how he can save my business money with my Macbook Pros. Apple product servicing can be very expense and time consuming to fix at other repair shops but John always gives me great advice and prompt service."
David Boles
"Very helpful. Appreciated the extra effort and time it took to resolve my Mac laptop issues. Recommended!"
Agnes Vrieze
"Brought my laptop in a few days ago due to a overheating problem and they cleaned it up for me, it seems to be working great now with no issues. Thank you !"
Jess
"John provides amazing service with the fastest turnaround time. Went to apple today and was quoted 2 weeks to repair. John repaired my MacBook in 3 hours from the time he called me. Very knowledgable and extremely helpful. Will recommend to anybody and will definitely comeback for any computer problems. A+++"
Marvin Pinero
"I was only in town for a night and wasn't able to get my MacBook serviced. But I was contacted via text message and they explained that I could easily purchase a battery off amazon and use YouTube videos to install it myself. I really appreciate the honesty and customer commitment."
Gareth Manning
"I have always had success with John! Thank You for Speeding up my laptop, runs better than when I got it out of the box! Super FAST!! Thanks again."
Carolyn Rose
"just amazing….great prices ..friendly service… same day service (screen replacement and software update).. not to mention my macbook is an older model and I hear most places wont work on my device anymore even tho it runs great….sooo truly grateful to have been referred here! will be sending my friends in too!"
Erika Rogers
"Broke my laptop screen on a brand new laptop from bestbuy. They wanted to send it off for 3-4 weeks, but JTG systems ordered a new screen and repaired it within three days for half the price that bestbuy wanted to charge. communication was great and couldn't be happier with the quality of the services! i would highly recommend this company."
Kayleigh
"JTG Systems agreed to take a look at my mid 2012 Macbook as I had been having some issues. Upon return, I can say they did a fantastic job cleaning it. It has never ran better! I will definitely return for any and all computer needs in the future."
Leah D
"I was very impressed with the honest feedback I received about my laptop repair. I was told it would cost over $200 and I'd be back in 3 months with the same problem. I applaud JTG Systems for their integrity and will happily recommend them."
D Mills
"My wife recommended JTG when I wanted to upgrade my laptop so I sent a message early one evening and John replied within an hour with a very reasonable quote. The laptop was dropped off Monday and I picked it up Tuesday. The work done by JTG improved my computer's performance and speed way beyond what I expected. Quick response, good prices, next day service, friendly staff…why would you go anywhere else? Thanks to John, my days of frustration and annoyance from dealing with a sluggish laptop are over 🙂 Thank you very much, JTG Systems!!"
Sean C
"John was a life saver! Did a house call and picked up my laptops and fixed them and brought them back. Highly recommended"
Karen Tigley
"John has been very helpful, and does really meticulous work. I find his response time very great, as well. I would definitely recommend using his services. He fixed my Headphone Port on my Macbook as well ,as well as helping me do an SSD upgrade on my mac as well. Will be coming back in the future for repairs forsure."
Tomas Cartier
"I broke my LCD screen on my laptop and emailed John. He was quick to respond and he fixed my computer in a day! The prices were very fair and I appreciated that! I would highly recommend JTG Systems to everyone I know!"
Kylie
"Took my MacBook Pro to fix the audio jack. They weren't able to fix it without a new part. I did not wish to purchase the new part so they put it back together for me at no cost even though I expected to pay for the labour spent taking it apart. Thats stand up customer service. I will recommend to all my friends and family."
Greg Kai
"I have been long time customer at JTG Systems and I STRONGLY recommend anyone that has a computer or electronic problem (or question) to definitely bring their stuff in to get it checked out. The customer service was beyond excellent and my laptop was fixed/repaired within 24 hours of me dropping it off! The staff are friendly, and the owner John was very helpful and efficient!!! Keep it up guys!!!!!"
Lesley Rose
"So fast, so friendly, John went above and beyond with both service and support to make sure my laptops were running efficiently and to my specifications. And at a third of the price staples quoted me for a lesser service. Thank you!!! We won't go anywhere else."
J Zanutto
"John did a excellent job fixing my MacBook Pro. He even repaired my charger and took the time to help me solve some issues. Very helpful!!"
Alex Succar
"Just another happy customer here with a repaired Macbook. John has done some Christmas miracles on my laptop, and everything is back on track now. He is indeed the best in the business considering the time, money and the quality of repairs which costs the fraction of what it would've cost if I went with Apple "geniuses"."
Berkay Tamer
"had a great experience he fixed my alienware laptop in one night :)"
Joe Cacilhas
"John looked at my Mac laptop, ran a test and was able to diagnose the problem within a few minutes. He had the part I needed and he was able to fix my Mac on the spot which was amazing!"
Jessie Fournier
"Great service. This company is excellent at what they do. From replacing a disc drive to a macbook keyboard, they are always great, reasonably priced and quick to get things done. I would recommend this company to any other mac user that doesn't want to go all the way to the genius bar or pay an arm and a leg for apple care. Great people!"
Ryan Guay
"JTG systems, John Gallie is the most reliable honest computer guy you can get to fix your laptop or desktop! Who can beat same-day computer repair? And if you're not sure if you can trust leaving your personal information in someone else's hands you can 100% trust John! He has a police clearance, took police foundations in college, served in the military, and volunteers for crime stoppers. I highly highly recommend him! Two thumbs up! :-)"
Rachel Kruitbosch
"Excellent experience working with John. I called him on a Saturday expecting to have to leave a message and thought I'd have to drop my MacBook off the next week. Instead, he answered the phone and told me to bring it in right away. Dropped it off a few minutes later and John said he would get it done by the end of the day! Apple could not help me with their own machine, but John did, and he did it fast! I had been waiting for over a month for Apple. My MacBook has the weird "C" style USB ports, and I forgot to bring the adapter. John even offered to come and get it from my house in order to get the job done! My advice? Support your local businesses, especially the ones that provide a high level of customer care. I hope to never have computer problems ever again, so I'll never have to go back, but who are we kidding? It's going to happen, and when it does, I know where I'm taking my computer! John goes above and beyond to serve his customers. Highly recommend JTG Systems!"
J Hauber
"Friendly, helpful, laptop works great!"
Doug Yarnell
"I have had 2 of my laptops repaired at JTG systems and they both came back in perfect condition! Very friendly, professional, affordable, and timely service! I enjoyed my experience so much that I have referred a few of my friends to have their computers repaired at JTG systems as well. They were both extremely satisfied with their service and the price for their repair. I also went away on vacation and forgot my MacBook charger and I contacted John, the owner, who allowed me to borrow one for my entire vacation! Saved me from having to buy a new charger for just 10 days! Saved my vacation! Thanks JTG systems, I will return and continue to refer my friends!"
Jarod Glen
"Came in and within 2 hours he fixed my laptop and had it working better than new. Was professional and genuine, highly recommend."
Matthew Kowald
"Many years of great service. Jtg systems has saved the day many times from our home computer to our laptops."
Ki Sobieraj
"Lost the use of our laptop found a professional knowledgeable technician. Moved up to #1 on our favorites. John went above and beyond, thank you."
Ken and Maureen Anthes
"Incredible service — went out of their way to help me and didn't even charge for their time for fixing my Macbook Pro! Will always go back!"
Sean R
"Met with John last week due to my wife MacBook 12″ logic board failing. He took the time to look over it for many hours and determined the only repair was to replace it. He didn't charge me a single dollar for his time and if I decide to go through with the repair I will definitely be bringing it back to him. very knowledgeable and friendly!"
Josh Hedden
"When it comes to computer problems we all panic fearing the worst. Always fearful of lost data and complete system reinstalls. I walked into JTG one day with 2 laptops with software issues. A few hours later I walked out with 2 repaired laptops. Very reasonably priced and great fast service. I will recommend to others needing computer repairs. Thanks fellas."
D Smith
"Jon has helped me out more today than any other company has in the past 2 weeks after my laptop completely gave out. Most places I went to gave me no information and simply just wanted my money. Jon seems like he cares! He's easy to communicate to and seems 100 percent genuine. The type of person who will go out of their way to get you what you need. I'd suggest going to JTG computer repair if you want someone who wants to help and who can help!"
Rylee Mori
"helped setup my universal remote control, helped with my laptop and seeing my photos from my phone and saving my important documents to the cloud. thank you."
Pat Irwin
"John was very helpful on fixing my laptop. He has very reasonable rates and very vask knowledge on items that are causing problems by explaining them. I will be dealing with him from now on"
kirstena Edwards
"Great place to get your macbook fixed or upgraded. walked into a few other places and left with my head aching. Walked into JTG Systems and got my macbook upgraded at a great price, less time for parts and no headache. Parts came in the next day and they set my computer up nice and fast, cleaned everything up and i was on my way.Thank you guys you did a great job. My macbook's never been as good as it is now :D"
Kevin Opalka
"John is a great person, very professional, great customer service. He cleaned my sons laptop up for us, and its worked amazing ever since. He also unlocked our one laptop we forgot the password too. LolOverall great, timely service."
meaghan kerton
"Took two laptops in for different issues. Computer one was completed and working perfectly on return. Computer two took another trip but they were very professional and second trip was free of charge and they helped find additional solutions. Thanks very much."
Sherry Gifford
Niagara Laptop Repair - Welland Computer Repair